How an eSIM works
The eSIM install process involves 3 main entities:
Phone OS (Apple, Android)
The carrier (AIS, 3HK, Vodafone, etc)
'Trusted' SIM Card maker (Gemalto)
While plastic SIM cards may be no more, SIM manufactures have now taken up a new roll as the SM-DP+ (Subscription Manager Data Preparation) provider in the eSIM system. This means they are still involved in the creation, generation, management and the protection of SIM profiles.
When you scan an eSIM QR code on an eSIM enabled phone, you are providing two pieces of data – a connection string and unique single use code. Your phone, specifically the LPA (Local Profile Assistant) inside your phone, contacts the SIM maker (SM-DP+) and presents the code provided by your eSIM provider. The SM-DP+ then checks with the Carrier that the code is valid, and the LPA proceeds to open a secure connection with the eSIM slot (eUICC) to download the SIM profile as prepared by the operator.  If the eSIM connection is successful , this status is passed back to the LPA and then to the SIM maker (SM-DP+) and eventually back to the carrier.  Upon install success, communications service to the user starts.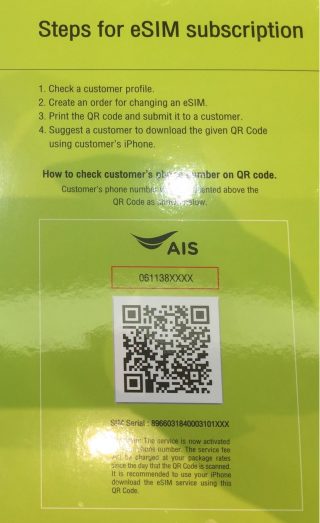 The connection information contained in an eSIM QR code looks something like this:
LPA:1$ais.prod.ondemandconnectivity.com$4RBMRBTMJLYPPLN1
eSIMs with out QR codes
Many eSIM providers are building their own smartphone app where they have the ability of provisioning the eSIM, so there is no need for a QR code to deliver the profile information.  Commands sent form the app allow eSIMs to be added or removed.  Additionally it is possible on some devices to manually enter the connection information.
A simple summary of eSIM connection via QR code
The data contained in a eSIM QR codes authorizes a one time SIM profile to be loaded into your phone.  Once the SIM profile is added, the QR code is no longer valid, however, many carriers and reissue a fresh QR code that will allow adding the eSIM again.
Once your eSIM profile is downloaded, your phone basically sees a working SIM card, and can function with the Carrier as with a normal SIM.
Pros and Cons of eSIMs
Pro:
Easy to install
Can be delivered digitally – no plastic or waste
Allow carriers to easily sell their profiles globally
Works just like a normal SIM once installed
Cons:
Can't easily switch eSIM between phones or share
Still relies on SIM card makers
Low adoption and slowly growing device support