Philippine Peso Payments
You can now reload any prepaid SIM, like AIS SIM2Fly,  on MobileTopup.com with Pesos (₱) using the Coins.ph Peso wallet.  If you do not yet have a coins.ph account you can get one here.  There are many ways to add PHP funds to your coins.ph wallet including these fee free options.
No Coins.ph account necessary!
In addition, you can make payment without a coins.ph account using the 7-11 or Cebuana Lhuillier options.
How to pay with Coins.ph Wallet
At checkout, simply choose the coins.ph option: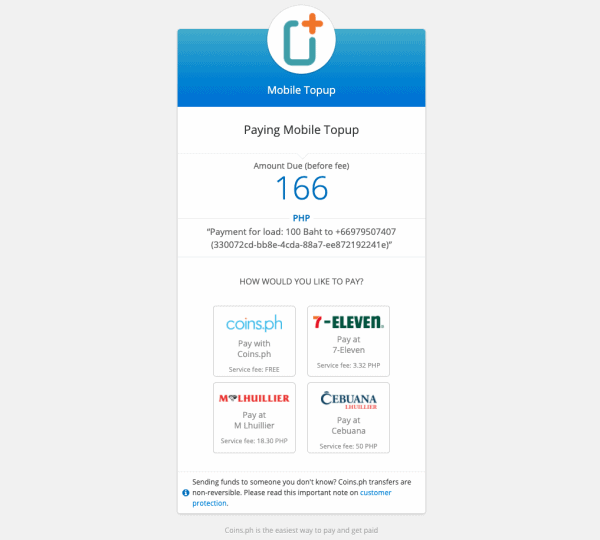 Payment options are show on the checkout page.  You can either sign in to a coin.ph account or choose one of the other pay in options.   Payment links are valid for 10 minutes.

Coins.ph Fees
A 2% fee charged by coins.ph is added to the price and the Thai Baht value is converted to Philippine Pesos at our best available currency exchange rate.   You may face additional fees from Coins.ph depending on the method you choose to pay or add funds.
Assuming your coins.ph wallet is funded without fee, this payment method will be cheaper than using a Credit or Debit card.
Refund for Failed Top Ups
If your recharge request is not able to be filled for any reason, you can request a refund.  Coins.ph does not provide an automated method for refunds and so we will need to manually refund the PHP amount received.  Additionally, we do not get your private information from coins.ph so you will have to send us your account phone or email.
To make a request for a refund request visit making a coins.ph refund request page.
We can not provide refunds for successful top up requests, even if sent to a wrong number.
About Coins.ph
Read more about coins.ph in this blog post and video review, as well as on Glassdoor.